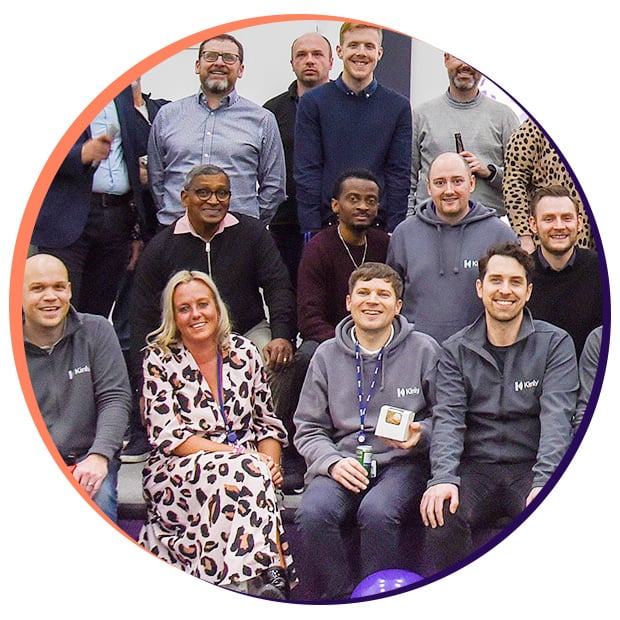 Why work at Kinly?
Great things happen when people work together, that's why collaboration is at the heart of everything we do. Whether it's helping Kinly customers to develop new ways of working together or empowering our teams to mould the future of our business, we put people first.
Today, we are close to 1,200 employees and working with over 2,500 clients across the world. As Kinly continues to grow, we are constantly looking for new people to bring fresh ideas to our teams.
Why join our team?
We are on a mission to become the preferred global provider for hybrid working solutions, strategies and support. Skilled people like you can support us on this journey as we grow and evolve. Together, we can play a vital part in shaping a world where everyone can work effectively, from anywhere.
Investing in you
While we are a global organisation operating in different parts of the world, we are united by a shared passion for putting people first. We would not be who we are without our team of over 1,200 skilled and dedicated professionals. That's why we aim to attract and retain the best possible people and equip them with all they need to progress at Kinly and flourish in the AV industry.
Work at the top
We support high-trust organisations in industries spanning from global enterprises to corporate and public sector to high education. International companies rely on us to deliver secure and flexible meeting experiences. That's why we partner with the world's leading technology vendors to provide our customers with access to the best solutions on the market.
What are the benefits?
When we say working together everywhere, we mean it. Our culture is underpinned by teamwork and a dedication to flexibility. We also offer a benefits package including generous holidays, mental health care, health plans, retail discounts, social activities, awards and many more. Plus, no matter where you arrive at Kinly, we ensure you have the opportunity to progress through the business.
See it firsthand
Take a look at our video to learn more about who we are, where we're going and how we can help you realise your career goals.
Contribute to society
If you want to give back to society, we want to be there to support you. We offer paid volunteer days to all our employees. In addition, our dedicated charity committee runs yearly events and has raised over £60,000 this year alone for charities including Great Ormond Street Hospital, Help for Heroes and The Children's Cancer Society.
Be at your best
The health and happiness of our people is our number one priority. We want you to enjoy working for Kinly and perform at your best. Our wellbeing policy is continually adapted to suit the needs of our teams. We have mental health first aiders across our business and offer support packages including counselling, subsidised healthcare and an employee assistance plan.
Help the planet
We are enabling the world to work better together and want to make it a better place in the process. As part of our environmental commitments, we have planted 1,100 trees across Africa to provide food, medicine and habitat for wildlife affected by deforestation. In addition, the EcoVardis silver medal recognises us in the top 25 per cent of companies for sustainable performance.